a few weeks ago, our dear miss mustard seed (marian parsons) posted this inspirational and informational – but most of all adorable – video:
which inspired us towards a similar style makeover of an old dresser we'd recently found out junking.
the body is done in mustard seed yellow milk paint, and the hand-painted details are in marzipan. (since i wanted to re-use the existing porcelain & brass knobs, we chose the white from miss mustard seed's line that was closest.) meriweather did all the embellishments by hand with a small artist's brush…she makes it look so easy!
the existing finish on the dresser caused just the perfect amount of chipping.
the top was badly water-damaged. after sanding it down, two coats of curio were applied. once the paint was dry, we used one of my favorite techniques to finish it: wet-sanding with oil. i brushed on a thin coat of hemp oil, making it as even as possible, let it sit for a few minutes, and then wiped back the excess with a paper towel.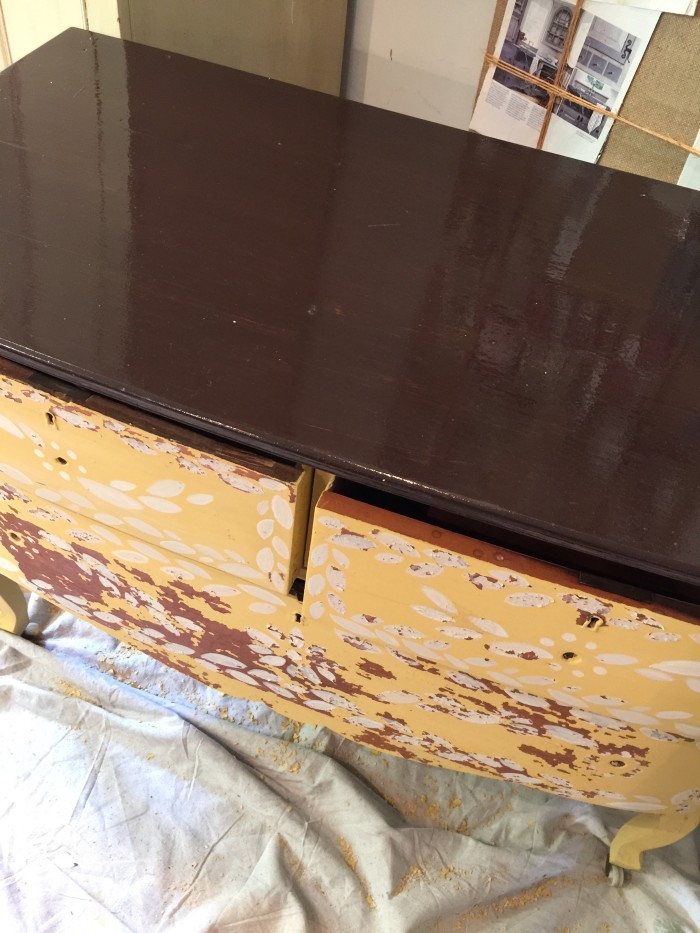 taking a piece of 600-grit 'wet/dry' sandpaper, i smoothed the surface using long strokes in the same direction. (you'll need to flip your sandpaper to a fresh side every so often, and wipe again with clean shop towels when things get messy.) more passes with the sandpaper burnish the paint and oil together, creating a smooth-as-a-baby, durable finish.
hemp oil needs a few weeks to cure – the same way other topcoats and waxes do – so be extra-gentle with those surfaces for 30 days or so. after a couple of weeks of dry time, a coat of wax can also be applied over the hemp oil for more shine and an extra measure of protection.
mustard seed yellow and curio are miss mustard seed's colors of the month for november, so quarts are discounted all month long. come and see us!