show of hands, please…who remembers the feature in the original (print) version of domino called 'turn this outfit into a room'? the editors would challenge an interior designer to translate the elements of a chic clothing ensemble into a scheme for an entire space…it was a fun concept. when i saw this knockout powder room in style blueprint done by memphis designer jenna wallis, it hit me – i wanted to interpret her amazing look into a piece of furniture. here's a link to her swank home, featuring the chinoiserie bathroom, with photos by julie wage ross.
renee scored a sweet old chest of drawers with (key!) the original casters still intact at a yard sale. (fact: mrs. jones adores wheels.) it wore a coat of yellow paint that popped off in chunks anytime we looked at it, so it sat in storage until there was time to strip the old paint. revelation – soy-gel stripper. it's fantastically effective, and safe to use indoors. (we fell for it so hard that we now carry it at me & mrs. jones, though you can also order it here.)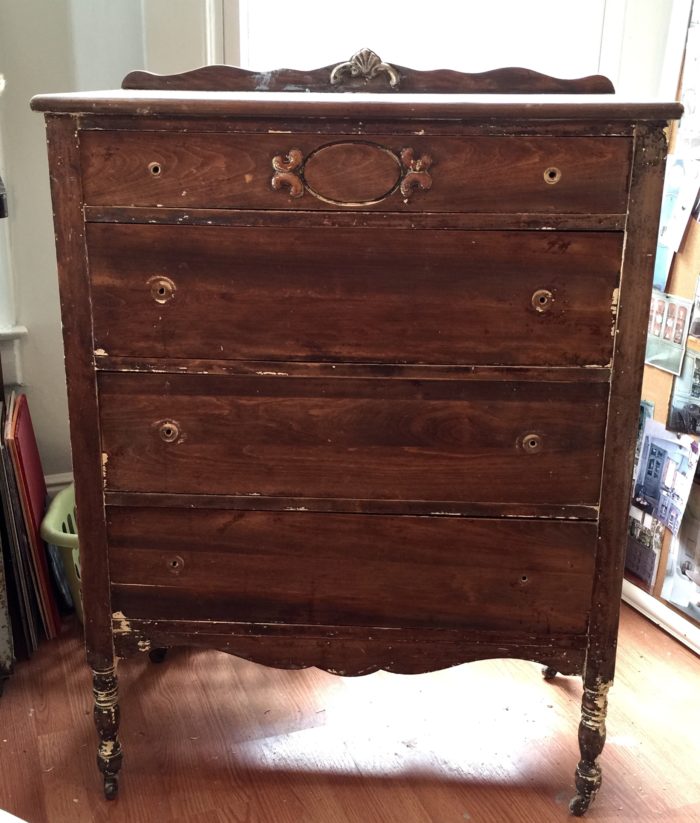 once the old paint was off, we sealed with white shellac-based primer…it took two coats to seal in all the old stain. the chest had an old attic-y smell, so i removed the drawers and used spray shellac to coat the inside surfaces, too. chalk paint® was next – two coats of pure white, floated on thinly with my favorite smooth 'blue annie' brush, with a little water added to help the paint flow.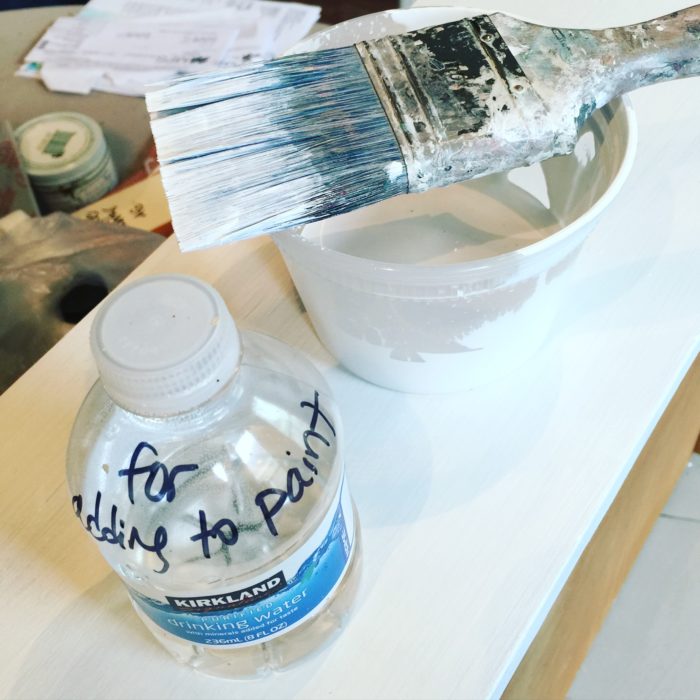 now, the fun part: stenciling! long-time readers know that mrs. jones's all-time fave is willow pattern by stencil library. annie sloan's napoleonic blue is a perfect shade to replicate the china pattern. (when you're using a distinct design like this one, it lays out best if you center the first repeat on your surface, and then work out and around, letting the pattern unfold.)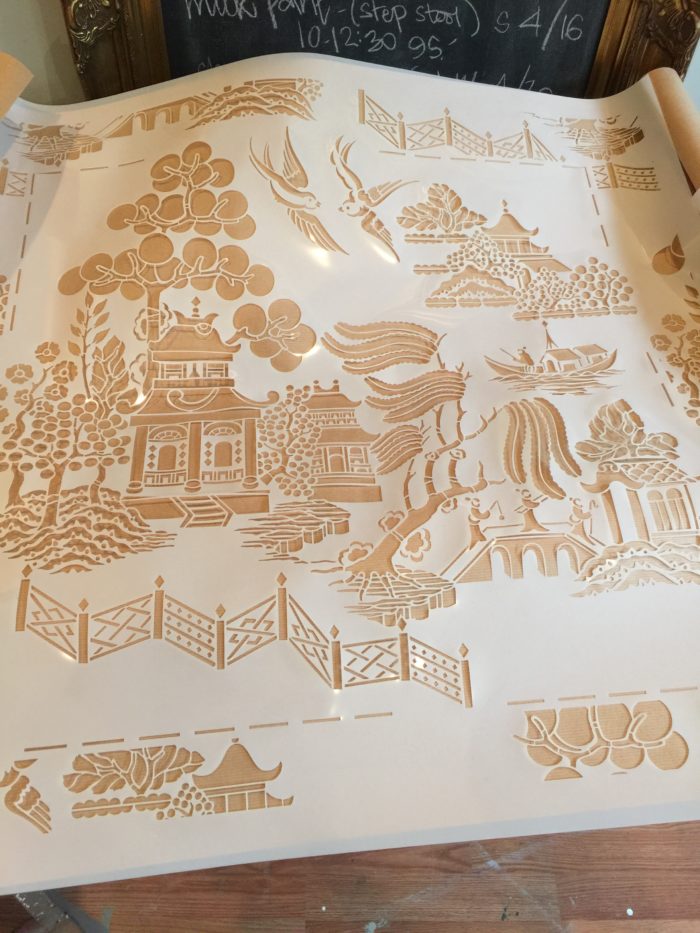 the lovely folks at modern masters asked me to takeover their instagram feed for a week this spring, and this project gave me the chance to use some of their terrific products as the final layers: first, a coat of satin varnish, followed by their two-step china crackle (sadly, no longer available…though annie sloan's excellent craqueleur would work as well.) the crazing is most easily visible on the blue painted areas. it gives depth and interest to the finish, and is a reference to the pattern's origins. over that is a layer of modern masters' tintable glaze with white pigment added. one more coat of satin varnish protects the finish.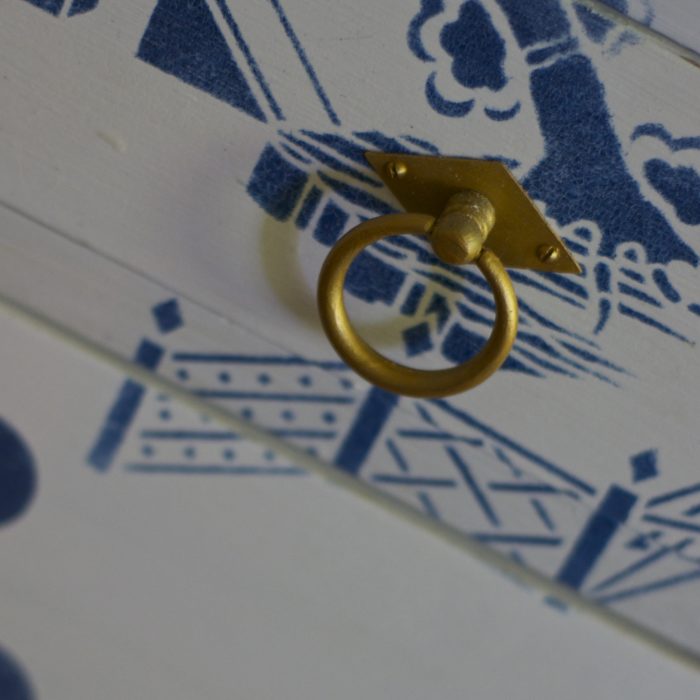 on the hardware (from home depot's online shop – fab choices! who knew?) we used modern masters' metallic paint in olympic gold. (cheat: we base-coated the metal pulls with chalk paint® in arles for adhesion and coverage.) i was thrilled to find ring-style pulls with the diamond-shaped backplate – it echoes the pattern found in the fence on the stencil. we also used the metallic paint to pick out the bands on the legs.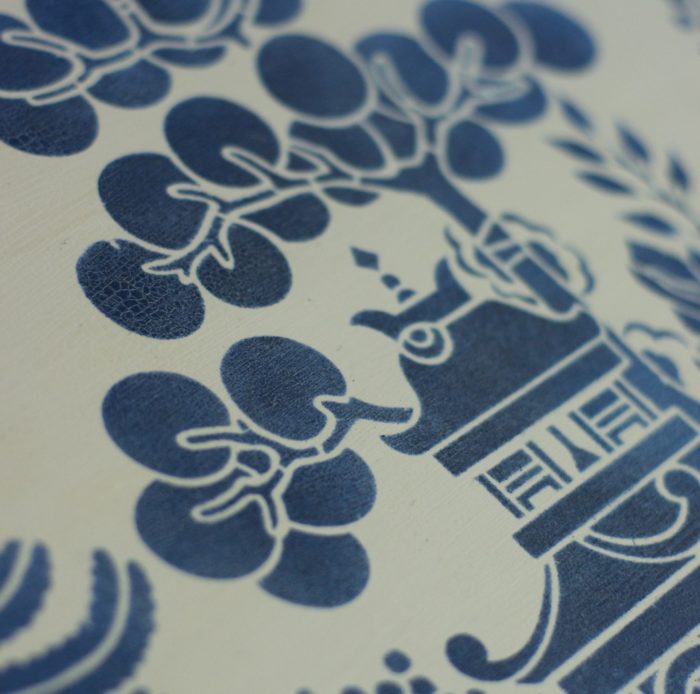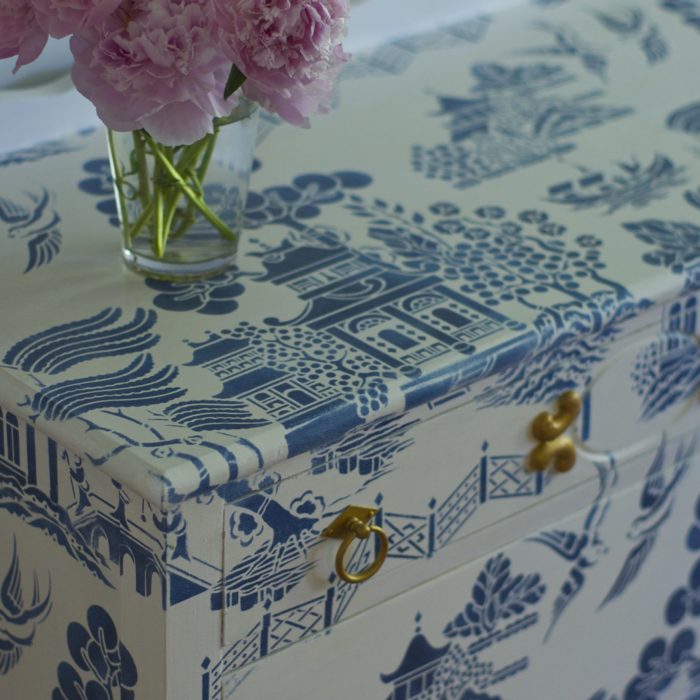 we plan to paint the insides of the drawers, but are flipping between english yellow and a deep pink made with burgundy + pure white. thoughts?