the jones boys recently helped clean a friends' attic in exchange for a few pieces of furniture…a fantastic deal (for mrs. jones, at least.) one of the chests was something a novice woodworker had made, and after much puzzling, we found that each drawer only fit in one particular spot. when we finally had them right, i said 'that's it – we are numbering these drawers!' to which charlie brilliantly said: 'mom…what about roman numerals? that might look cool.'
so with a little help from my lovely friends at maison de stencils, roman number templates were soon at hand.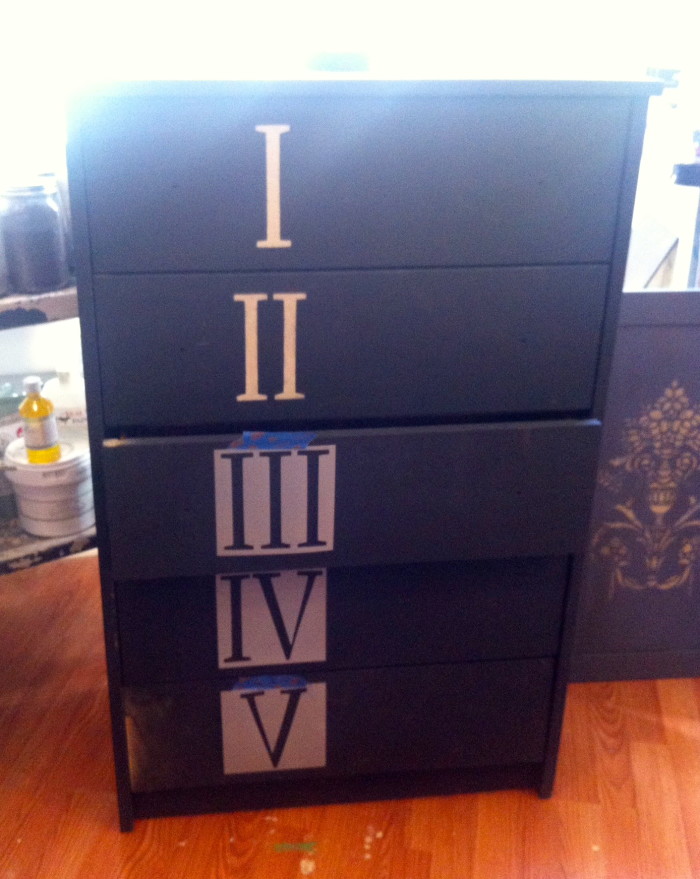 we used chalk paint® by annie sloan: first, a layer of aubusson blue, covered by a coat of graphite…old ochre for the stencil, chateau grey for the insides of the drawers, and then clear and dark wax to seal the paint and add patina. this was a piece in progress when we held a waxing workshop at the studio, and the attendees challenged me to see how far a quarter-cup of wax would go…
using the best brush in my arsenal, the annie sloan large waxer, i was able to get the whole dresser done with less than the allotted quarter-cup. (just ask…there were plenty of witnesses.) because the brush doesn't absorb any wax – the way a cloth does – and the bristles are made to firmly but gently sweep the wax into the paint, you can use a very sparing amount and have an easier time of buffing with a totally gorgeous result.
after applying the clear wax, we rubbed the edges gently with 220-grit sandpaper, 'easing' the paint back for a bit of distressing…i had already softly distressed the stenciled pattern.  then we brushed on a coat of dark wax that we had added a tiny bit of aubusson blue chalk paint® to, to further tint the dark wax, making it cooler and black-ish.
(we left the knobs 'as is' for contrast and warmth.)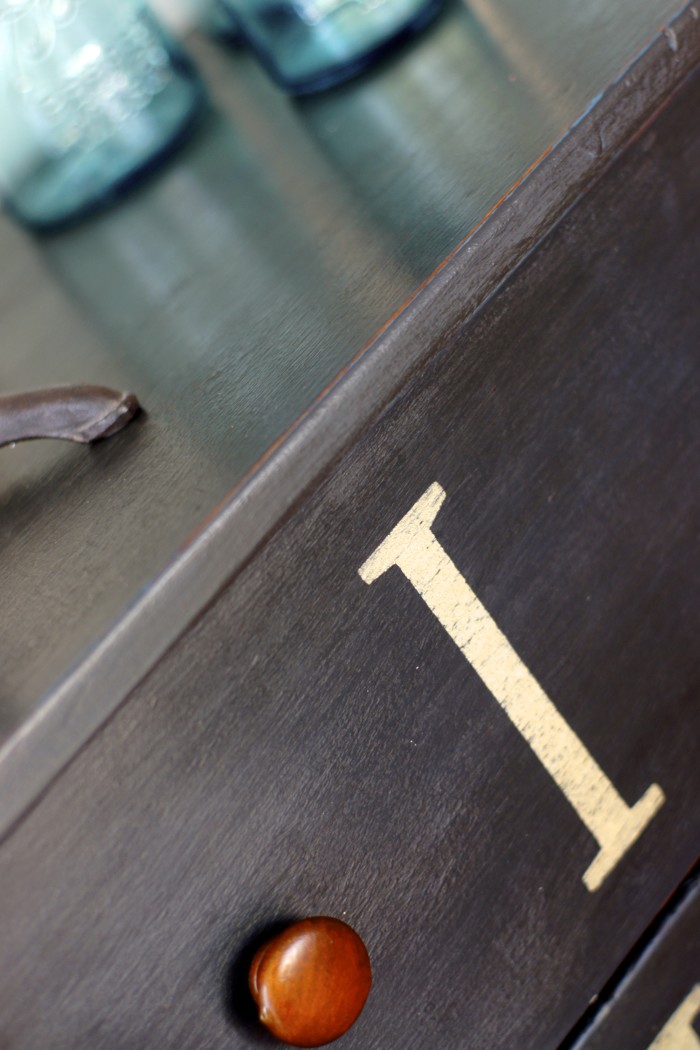 one final hint…when waxing, it's easy to forget to let the wax dry overnight and then give it a good buffing, or polishing. but that's when you bring up the gleam and bring the paint to life! a nice buffing also helps harden the wax and melds it together with the paint – a key step when using chalk paint®.